AEC Digital Solutions adopts COBie: The New Face of Building Information Exchange
BIM service provider AEC Digital Solutions LLC has successfully adopted Construction Operations Building information exchange (COBie). The construction industry has fully adopted virtual design. Driven by a combination of government policy and strategies for more efficient, cost effective design practice, building information modeling (BIM) has become widely accepted as a transformation of analog text and 2D graphics, to 3D, digital electronic imagery and information. Benefits of BIM go beyond the construction phase. In the operational stage of the facility, BIM data is turned into a format useable by facility managers for performance assessment and facility management over the life-cycle of the building. Called Construction Operations Building information exchange, or COBie, it is a specification for the life-cycle capture and delivery of information. COBie can be viewed in software as well as in simple spreadsheets. COBie is used in completed structures for information essential to support building operation, including important project data at the point of origin; equipment lists, product data sheets, warranties, spare parts lists, trouble-shooting guides, system operational procedures, system analysis, energy efficiency management and preventive maintenance schedules.
Building product manufacturers, consultants, systems integrators, networking professionals, vendors and sub-vendors should be aware of the successful commercial implementations of COBie. Designing energy efficient, high performance structures are common goals for today's construction professionals. Building information modeling and COBie are proven methods of delivering quality projects faster and for less money. In the age of smart buildings, we have the technology to design, build and operate intelligent environments where building occupants can be safe, healthy and productive.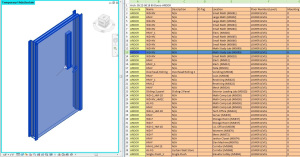 About AEC digital solutions LLC
Headquartered in USA, AEC Digital Solutions LLC is a leading outsourced service provider in BIM (Revit and Bentley) having a global presence and operations in India. It offers BIM Modeling and support services such as BIM Studio, Virtual Design & Construction, BIM Content Creation, Commercial Kitchen Layout & Content Creation, Scan to BIM, BIM Integration and Documentation services. The team comprises of seasoned professionals – Architects and Engineers, having an average BIM experience of 8 years.